Southern Hospitality Catering offers full service catering for events of all sizes. From weddings and receptions, seated dinner parties, corporate events or seafood boils, we can create a tailored menu perfect for your event. Our focus is to make your event planning stress free and delicious. We can take care of all of the details and guide you through planning for any size group.
Founded 1984 – Celebrating Over 35 Years
John Rowland – President
Max Bouzaid – Executive Chef
Julie Lamkin – General Manager
Noel Rowland – Security
PHONE: (504) 897-0477
EMAIL: julie@southernhospitalitycatering.com
OUR LOCATION: 3259 Chippewa St, New Orleans, LA 70115
The Pineapple – Symbol of Hospitality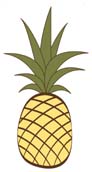 During the colonial days in America, a hostess's ability to have a pineapple for an important dining event said as much about her rank as it did about her resourcefulness. So sought after were the prickly fruits that colonial confectioners sometimes rented them to households by the day. Later, the same fruit was sold to other, more affluent clients who actually ate it.
In larger homes, the dining room doors were kept closed to heighten visitors' suspense about the table being readied on the other side. At the appointed moment, and with the maximum amount of pomp and drama, the doors were flung open to reveal the evening's main event. Visitors confronted with pineapple-topped food displays felt particularly honored by a hostess who obviously spared no expense to ensure her guests' dining pleasure.
In this manner, the fruit which was the visual keystone of the feast naturally came to symbolize the high spirits of the social events themselves; the image of the pineapple coming to express the sense of welcome, good cheer, human warmth and family affection inherent to such gracious home gatherings.